Groups
Bike Hotel in Riccione for groups
There is nothing worse than feeling like you are keeping a group waiting if the speed is too fast for you.
Our solution?
We offer three groups, each one with its own Guide: "Giro Corto", "Giro Medio" and "Giro Lungo". This way, there is a group to suit eveyone so you may enjoy riding with other guests of a similar fitness level. We also tailor our routes to suit each group with the faster, longer tours taking on bigger and steeper hills then the shorter ones. We ride as a group and nobody is left behind or lost. We may split on a climb but rest assured, we always regroup at the summit and ensure we have everyone and enjoy a moments rest should it be needed.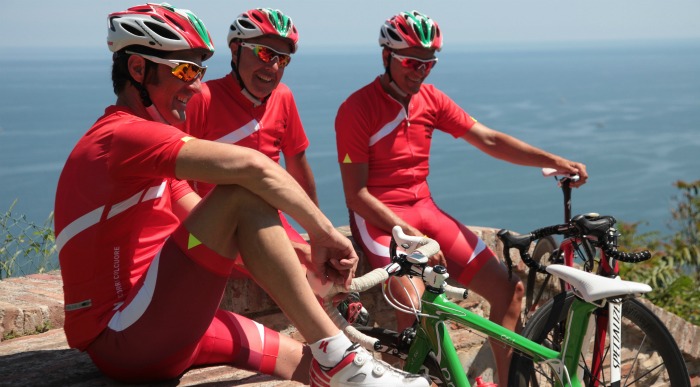 Giro Corto: for riders who like to take their time, a group who ride for fun, pedaling around, looking at the beautiful scenery of our region, rides are 30-40 miles a day and the routes take us through the fortresses, castles and vineyards where the king of all the Romagna wines: "Sangiovese" is produced. Stop in shady piazzas admire the view from hillside terraces; have lunch in typical inns; share the atmosphere and the local traditions that make "the Romagna people" the happiest and friendliest in Italy. Definitely bring your camera!!
An unforgettable experience!
Giro Medio: the group for who those who prefer to see the sites and cycle a little longer and faster. This group typically rides 50-60 miles at a medium pace on flat, undulating roads and includes some hills! Our expert guide will be with you to select the best routes. Routes have been planned to satisfy the cycle tourist, traveling through spectacular regions, rich in history and culture. Opportunities for photography are boundless and quality of light was inspiration for the great masters of the Renaissance… And then back to the Bike Hotel Milano Helvetia to Re-wind the day's story over along cool drink or a cappuccino.
That's what we call "bellissima"!
Giro Lungo: This group is for more serious athletes. The "Giro Lungo" is for riders who wish to challenge themselves not only with distance but speed too! This group typically rides 60 miles or more each day at a faster pace than the other groups, following the routes that made the Marco Pantani a cycling legend. Triumph over adversity, the experience will be etched in your mind. Enjoy the camaraderie, the competitition as you sweat and fight to climb the last mountain or sweep down the hill and sprint for your first stage win… All part of the Bike Hotel Milano Helvetia's cycling experience. This group is for experienced cyclists who have covered 900-1200 miles. It is advisable to have done some training climbs prior to joining this group.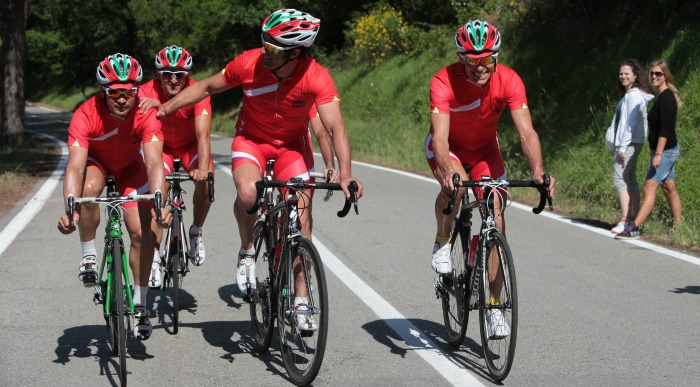 That's what we call "eccezionale"!
Self-guided tours
We have not forgotten our guests on our Basic Package who ride without a guide or those who just prefer to ride alone or with their friends.
In Spring 2012 we introduced our own Bike Folder within the hotel. In it are a selection of our tours recorded with a Garmin GPS device, each detailing how long and how many climbing meters to expect on your tour. Of course, we prefer you ride with the company of our guides but we understand that some prefer to ride alone or in their own group.
For these guests we have also included the link for you to download and follow the route at your leisure, just ask our bike tutor or guides for a look and they will be happy to show you or offer any advice.We also supply maps produced by the toursist office with route marked on them for your convenience.