Workshop and bike storage
We boast a workshop and bike storage area for our guests
Spring 2015 arrived and with it came our new dedicated workshop and bike storage area. We relocated our storage area  and now have the facility to hang 30 bikes and store more free standing in a secure environment.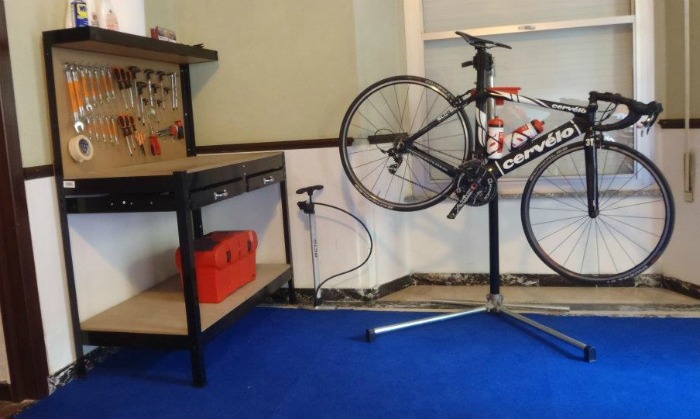 We also have a tool bench, work stand and basic tools so that you may fine tune your bikes whilst on holiday. Of course, if we don't have the tools here for a more complex repair then we will be happy to direct you to a local shop mechanic who will soon solve any issue.
You may also store your shoes and helmet here and will also find a water dispenser and mineral salts/drink mixed ready for your bottles.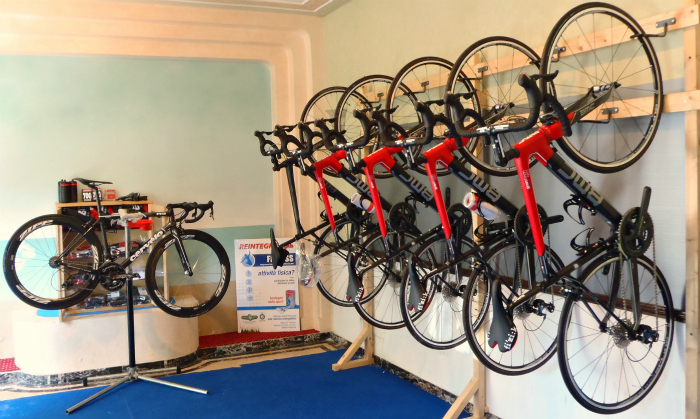 Road Bike Hotel Facilities
Lockable bike storage & parking device with video surveillance
Individual bike lock
Rental bikes can be selected and booked in advance via the hotel website
Outdoor cycling according to the cyclist's training level
Bike clothes washing service
Laundry service (on request at a cost)
Workshop corner
Bike Info Corner with overview map and current information
Cleaning Place and cleaners for wheels
Wi-Fi connection
Hotel Website with detailed information for your road bike holiday
Road Bike Tour even on the departure day (shower facilities and luggage storage available)
Meals
Rich Breakfast Buffet
Tour Board
Après-Bike-Snack (Rich power lunch buffet, after the morning riding, where you will find first courses, second courses, vegetables and dessert) from 2,30 pm to 4,30 pm
Relaxation
Swimming Pool with Jacuzzi Tub
Turkish Bath
Possibility to have many kinds of massage (on request)
Road Bike Tours
The Boss himself, Emiliano, is an enthusiastic cyclist and road bike guide!
6 days a week, guided bike tours in 3 different groups, according to the cyclists training levels
GPS rental with a minimum of 50 pre-programmed tours of the region from hotel
Road bike expertise in house
Classification of the road bike tours according to standard criteria
Free map sheets, road books, elevation profiles
Tours and overview map of the region
GPS data of the tours (free download)
Individual tour advice and trip planning
Free shuttle back at hotel in case of emergencies
Free transfer from the Riccione train station or from your landing airport at additional cost
Road bikers table as meeting place
Emergency card with key phone numbers